Eagle's Village Projects
A proportion of trip costs go towards the funding of projects in the Hilltribe villages. Some of the projects undertaken to date: laying clean water supply systems, building houses / schools, donating school uniforms for the children, purchasing teaching materials, general school supplies, school lunches, providing financial assistance in special cases and a family home for Hilltribe people who are on international projects in Chiang Mai. Funds are allocated, guided by the wisdom of village leaders.
Enquiries are welcome, whether for specific information on tours with Eagle House or general information on travelling in Thailand.
We urge you to visit Thailand and discover the beauties of this most fascinating country in the Orient with the help of Eagle House.
---
Some comments from Eagle House Guests

"….unreal! Sceptical before leaving but now a jungle freak! Learnt more in four days about Thailand and the people than I perceived possible. For me the most enlightening experience on my travels. To Annette I can only compliment you on your choice of staff and organization - it ran like clockwork, but unspoilt by western luxuries I now realise we do not need…..!
"….congratulations on your ability to combine a really efficient organization with that ineffable gift of easy hospitality which only comes from real concern for your guests. your staff, and these beautiful dignified people in the hills. It was a particular pleasure and priviledge to be introduced into the homes of the Karen Hilltribe by our guides who were able to bridge whatever gap there may have been otherwise between them and our band of assorted 'farangs' Thank you for your welcome and assistance and the wealth of experience and information about Chiang Mai. Be assured I shall recommend Eagle House and its treks to all would be visitors - young and old!…."
Guidbook recommendations
| | | | | |
| --- | --- | --- | --- | --- |
| | | | | |
Lonely Planet, Nancy Chandler, Stefan Loose, Rough Guide, Guide du Routard, Thailand (Dutch), Duncan Reisplanner, Passport Books, Reise Know How, Thailandia Guide EDT, Thailandia (Spanish), Thailand Interconnections, Frommers, Wilma etc.
| | | | | |
| --- | --- | --- | --- | --- |
| | | | | |
Eagle House is a member of Tourism Concern, Wildlife Fund of Thailand, The Foundation for the Protection of Environment and Tourism, The Northern Jungle Club, SKAL International Tourism Professionals
Languages spoken at Eagle House
English, German, French, Thai, Hilltribe languages, Lao, Shan.
*Tourism Authority of Thailand Company Licence Number: 24 / 00228.
*Registered with and approved by the Tourism Authority of Thailand and the Tourist Police of Thailand.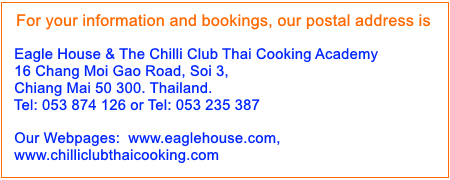 Entire contents of the Eagle House website copyright 2015 by Eagle House Eco-sensitive Tours
Webpage graphics by Mr. Wannachai Wongthala contact
e-mail: webmaster@eaglehouse.com
Webpage design by Ms Annette Kunigagon, Eagle House.
---

Top of Page
Eagle House: www.eaglehouse.com
E-mail:mail@eaglehouse.com