Eagle Village Projects
A proportion of trip costs go towards the funding the projects in the Hilltribe villages. Some of the projects undertaken to date: laying clean water supply systems, building houses / schoools, donating school uniforms for the children, purchasing teaching materials, general school supplies, school lunches, providing financial assistance in special cases and a family home for Hilltribe people who are on international projects in Chiang Mai. Funds are allocated, guided by the wisdom of the village leaders.
Eagles Leadership Trining Projects
Every year Eagle House undertakes f.o.c. to train local young students of tourism to become professionals in their field. Training prioritises the respect of environment, culture, humanity and the improvement of language skills.
Eagle House is located on a quiet lane in the town centre. It is one hundred metres from the old walled city, a few minutes walk from the Sunday Walking Street Market and a convenient ten minute walk to the irresistible Night Bazaar and the Saturday Walking Street Market. Close to museums, many temples, post office, banks, swimming pools, general shops, craft shops, hotels, markets and bookshops.

FACILITIES
Trekking and sightseeing trips. A Thai food cooking school called 'The Chilli Club' - courses for one day or more. Lush garden restaurants serving delicious but inexpensive Thai, Western and Vegetarian cuisine. Simple guest house accommodation. Fan cooled and airconditioned rooms all with private shower and toilet are available. Laundry service. Library. Book exchange Boardgames..... 'Safe' safe deposit box. Store room. Tourist information on where to go, what to see and do, shopping tips, Thai culture, customs, art, history, travel around Thailand……….
** Please note that you do not have to stay at Eagle House in order to avail yourself of any of our services, participate in our cooking courses, our treks, or peruse our tourist information and cultural folders. All guests are most welcome to come and sit in our tropical garden. You are not obliged to buy anything!!
CUSTOMISED TOURS
Trips can be organized anytime, anyplace, anywhere - individual itineraries. Touring cars seating 12 persons each (also 4 Wheel Drive) and very comfortable 10 seater air conditioned minibuses are available all including insurance.
TRAVEL AGENCY
Ticketing - air, bus, train. Flight reconfirmation. Hotel bookings.
RENTALS
Jeeps. Cars. Motorbikes.
ITINERARIES
Please note that changes to itineraries as described may occur due to weather conditions or other circumstances beyond our control, this will be left up to the discretion of the Guide or Eagle House. All tours must be paid in advance before departure, in cash, Thai Baht only. No refunds can be made for any unused services which are included in the tour price. Credit cards are not accepted.
*All rates are correct at time of website update, June 2015.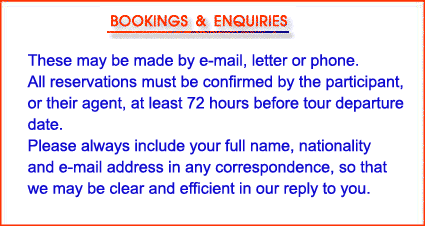 ---
Enquries Chiang Mai:
EAGLE HOUSE Eco-sensitive Tours
16 Changmoi Gao Road, Soi 3, Chiang Mai 50300, Thailand.
Tel : Int Code (66-53) 874 126, 235 387
---
top of page


---
Eagle House: www.eaglehouse.com
E-mail:mail@eaglehouse.com